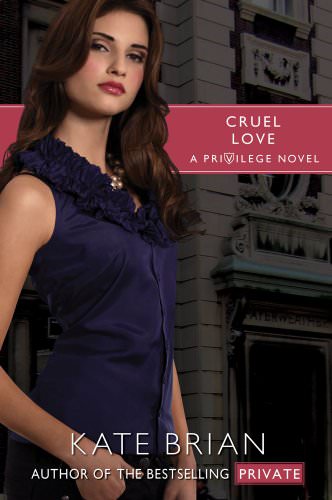 Published: June 2011
Publisher: Simon & Schuster Children's Publishing
Age Group: Young Adult
Series: Privilege #6 [end]
After escaping from the Brenda T. Trumball Correctional Facility for Women and stealing the identity of a rich socialite, Ariana Osgood finally thought she was on the path she always believed she deserved. But it seems her past has caught up with her--and it's blackmailing her right back to her old ways. Now everything she wants seems further out of reach than ever...and the return of her nemesis--Reed Brennan from Private--is making things even worse.
The Privilege series comes to a close with all the suspense, romance, drama and, wherever Ariana is concerned, murder you'd expect. (From Goodreads)
Cruel Love is the sixth and final book in the Privilege series.
In Cruel Love, Ariana Osgood (under the guise as Briana Leigh Covington) once again has to fight for her new privileged life. When her false life starts to unravel due to her previous actions, she decides to take actions. After Lexa's unfortunate death, Ariana rises to the top of Atherton-Pryce Hall and is guarenteed an admission into Princeton, but when Dr. Meloni, the psychologist from the prison. starts working as a grief counseller to the students, Ariana realizes that her life is still in danger. And when she happens to catch sight of Reed Brennan one day, she starts to believe that all the murders that happened because of her can be justified if Reed just died. It also doesn't help that her friends are all becoming suspicious of her new erratic behaviour. So what does Ariana do? She takes matters in to her own hands. Ariana would do anything to keep her life, including murder.
This was probably the most exciting 200 page book that i've read in a long time.
Right away, it starts with Ariana and her friends in the hospital waiting to hear the results for her friend Lexa. There's no building up, right away in the first chapter, there's a huge fights between Ariana and Palmer which builds the tension and really made me feel the anxiety that Ariana was going through.
Kate Brian does a really good job with allowing the readers to feel Ariana's steady decent in to being psychologically crazy. The readers know every action she does so the one's that she commits in private are usually the more crazy ones, and it is clear that towards the end of the book, she starts to becoming psychologically worse.
Everything also happens at a very quick pace, but still very dramatic and easy to follow along.
Its funny to see that most of the characters in the book are oblivious to Ariana's actions. When Dr. Meloni almost sees Ariana with her friends, she starts to have a panic attack which her friends assume is from stress but Ariana knows the real reason.
The series also ended quite well. At first i wasn't happy but then i realized that if it was written any other way, the series probably couldn't end at all. All i can say is it's a happy or sad ending, depending on your feelings about certain characters.
Ariana's psychotic nature is also more apparent in this book, in my opinion, due to her constant efforts to rid herself of one person, Reed. She stalks her and makes a concise schedule of everywhere Reed will be at what time, making sure to note if the path she takes would be a good place to kill her without being seen. That sort of scared me because before, Ariana wasn't this crazy about a murder but in this book, she plans each one out and executes them carefully...well attempting to be careful because things don't always happen as expected.
I thought this was a well written series and if you enjoyed Private, you'll definitely enjoy this book but if you've never heard of Kate Brian, then i would suggest you read Private before starting this series since this is the spin-off series of Private. Private would explain alot of Ariana's past and actions.
Definitely this series is for people that are into suspensful, thriller novels with a hint of romance.
5/5!
(originally posted in the TPL Word Out program)
MEH